Individual or Group eBay Training Courses
Whatever your level, we'll help you grow your eBay business and maximise your potential. With over 15 years' experience helping eBay sellers of all sizes, from start-ups to multinationals, we're serious about helping you take your marketplace business to the next level. Whether you're looking for a screenshare consultation, group training workshops or ongoing support, we'll help you navigate the challenges of the eBay marketplace and steer you in the right direction to profitable prosperity.!

Its best to start with our FREE, no-strings, 1-hour eBay consultation. This allows us to understand your requirements and highlight key areas of improvement for you to consider - and there's no commitment.
We undertake our eBay courses and training across the UK, with the majority of our eBay training course clients based in London, Surrey, West Sussex, East Sussex, Hampshire, Berkshire, Kent & the Home Counties. Wherever your location, our eBay consultants (who currently trade as Top Rated Sellers) will walk you through all areas of optimizing your eBay operations.
---
We would not hesitate to recommend NetSeek for any business looking for assistance with their eBay, Amazon and eCommerce platforms… We are now a global category-leading seller on Amazon and a Top Rated seller on eBay, and Mark Buckingham (owner of NetSeek) provided our business weekly support and consultancy for over two years to help us achieve our goals. We still pick his brains and appreciate the continued support from him and his colleagues.
~ Managing Director, Actesso Medical Supports Ltd (2018) | Read more testimonials here »
---
Professional eBay training - personalized to your business
Unofficial eBay tuition, classes & workshops: 1-on-1 to group eBay training classes
Streamlined integration of your inventory and expedient listing management
Understand Best Match and the sales strategies to best suit your business
Effective shop management & customer service best practise
Gaining the Top Rated Seller badge & top tips to help keep it
Create compelling, eye-catching, pro eBay listings
Learn how to fine tune your listings for Best Match
Researching the competition on eBay & beyond
Optimizing your eBay Shop listings & design
Seller metrics, DSR ratings & feedback
Tips you WON'T read on eBay Help!

---
Mark at NetSeek has managed our eBay shop since 2004 and our Amazon account since 2014. We have mostly seen a year on year increase in sales, especially Amazon. He also provides guidance on customer service and off-platform issues that help us improve our service and accelerate sales. It's clear Mark's knowledge of the nuts and bolts of how eBay and Amazon works, has helped facilitate our growth. We certainly recommend him and his company to anyone serious about running a successful marketplace operation.
~ MD, Seagull Balustrades Ltd, 2018 | Read more testimonials here »
---
We've conducted eBay training and consultancy across London, Surrey, Berkshire, Sussex and Kent, and have helped clients further afield, from Bristol, Bath, Birmingham, Worcester and Manchester and Glasgow and Edinburgh in Scotland, to the South Coast, including eBay business training and consultancy in Brighton, Portsmouth, Chichester, Southampton, Dorset Devon and Cornwall.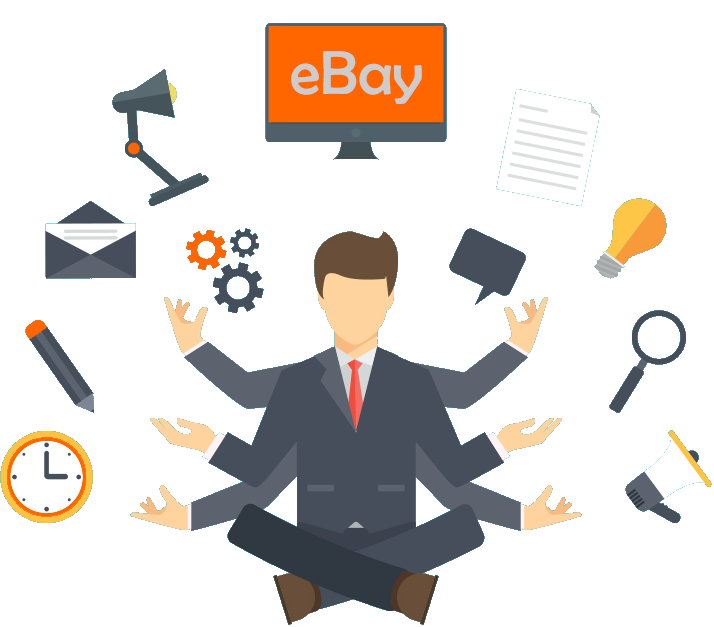 Stand out on eBay with professional listing templates
NetSeek and eSellerSolutions have worked in close partnerships since 2014 and are pleased to announce eSeller Solutions as our chosen primary supplier for our client's eBay design/ listing template needs - from professional listing and shop templates to mass bulk upload and bespoke development/ API integration requirements.
eSeller Solutions create unique, eye catching designs that will enhance your business. If you'd like to know more, please drop us a line or visit eSellerSolutions and quote 'NetSeek' for a 10% discount
New to eBay and need a helping-hand to kick-start sales?
NetSeek don't just specialise in helping established businesses advance their eBay sales. We gladly support beginners too. Whether you're an eBay novice or just need some expert advice to help raise your game, we can help. We also offer private eBay seller tutor training for those sellers just starting out on the marketplace. Naturally, we can adjust our fees to accommodate your budget.
Our basic onsite step-by-step beginner eBay selling training can help you …
Determine what to sell and how much your items are worth
Create an inviting product listing description
How to take and edit photos
Handle feedback, seller metrics and gain eBay Top Rated Status
Trade safely - avoid scams and phishing emails
Show you other eBay tools & resources to help you on your way to eBay success!

NetSeek owner, Mark Buckingham, has held numerous eBay workshops - from beginner evening classes to business school masterclasses - in the public and private sector for both Adult Education and Community colleges, Housing Associations and more. He's even held seller masterclasses at the eBay HQ and conducted public eBay seller events for eBay. Read our testimonials here…
We can travel to your premises or offices wherever you are in the UK. However, typically our private eBay training is undertaken in an around London/ m25: Surrey, Hampshire, Sussex, Berkshire, Essex or the Southeast; from Brighton to Chichester and Guildford to Watford. But distance isn't an issue, drop us a line if you're outside these areas and we'd be delighted to discuss a private eBay training session that works for you.
And for those sellers who can't accommodate us, we can provide a remote eBay screenshare training session.
Want to grow your Amazon sales?
We are also highly experienced Amazon specialists. Read more about our Amazon training & consultancy solutions here or drop us a line to discuss how we can help optimise, support or even help oversee the day to day management of your Amazon store.
We can help with all aspects of eBay - from setting up and taking your first steps, to advanced level training. Please complete our FREE CONSULTATION page to arrange a free, no-strings audit or consultation - or call us on +44 (0)1932 700416 for a chat.